Redleg Partridge Shooting
in Spain
E.J. Churchill Sporting, Ltd. is delighted to have teamed up with Alfonso Fabrés to offer clients some of the finest red leg partridge shooting available in Spain, or indeed anywhere in the world.

For a line of up to nine Guns, Alfonso
can provide memorable days of driven partridges with bags of 500 to 700 birds per day.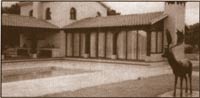 The Location
Alfonso's operation is situated in
Northern Spain's vast province of Castilla Y Leon. As well as producing some amazing driven partridge shooting, the region is also justifiably famous for its picturesque countryside and historic cities dating from pre-Roman times. Alfonso's latest shooting is in the spectacular Sierra de Batuecas.

The base of operations is the Las Haijaderas Hunting Lodge which is approximately 2 hours by road from Madrid. Las Haijaderas is right in the heart of "Los Toros" country. This is the area of Spain in which bulls are bred for bull fighting and, as you drive through the countryside, you will see black bulls in most of the fields.

The traditional Hunting Lodge is set on a bullfighting ranch and the main Lodge boasts a large dining room, kitchen, drawing/sitting rooms, terraces and a pool-side entertainment area and Alfonso's chef ensures that no one has any excuse for going hungry. Guests sleep in the adjoining courtyard building which houses twelve extremely roomy and comfortable bedrooms, each with en-suite facilities.
Shooting Area
The shooting area is approximately 45 minutes to an hour's drive from Las Haijaderas. There are, in fact, a number of different Estates and all are able to show high fast birds due to their excellent topography. One of the new Estates could easily drive a bird over 100 yards above the Gun's heads so a realistic 40 yard crosser is a frequent option.
Operations
Alfonso can arrange anywhere between one and five consecutive days of shooting although we would recommend a minimum of two days for European clients and three for American clients in order to justify the trip.

After arriving in Madrid, guests have the option of staying in Spain's capital city for a day before transferring to the shooting area or going directly to Las Haijaderas.
The following morning, shooters depart about 9:15 after breakfast, for the half-hour drive to the shooting area. The day typically includes two drives in the morning and two in the afternoon, with tapas available after each drive and a full lunch laid out in the field (either in the open air or in a shooting hut, depending on the weather).

Operations finish by 4:30 pm and, after returning to Las Haijaderas there is time for a bath and a short nap before cocktails at 7:00 pm.
The Shooting
The shooting with Alfonso is done on a "double gun" basis with each shooter using a pair of shotguns. Each Gun has the services of a cargedor who loads and a secretario who records the number of birds hit by the Gun and where they fall, which could be five hundred metres into a vertical valley. As Alfonso controls over 30,000 acres of shooting rights for driving partridge (and a variety of big game which are often seen on the drives), no two drives are alike. Due to the fact that each Gun draws a peg number in the morning tomelot, the rotation system on a pre-established formula, this ensures that he or she shoots next to different guests and in new places on every drive.
When To Go
It is possible to shoot partridges in Spain from September through the end of March, although we would suggest October onwards.

Despite the fact that these are the winter months, the warm Spanish climate ensures that on most days an al fresco lunch is possible without having to wrap up with too many layers of clothing!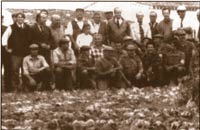 Non-Shooting Guests
Spanish partridge shooting is equally popular with non-shooting guests as with the Guns themselves, as there are so many activities to enjoy while the shooting parties are in the hills. Madrid offers some of the finest shopping in the world, as well as a trip to the famous Prado Museum.
There are also some excellent restaurants and bars to enjoy. In addition, there are plenty of wonderful shopping opportunities for pottery, leather, antiques and typical handicrafts. Nearby are famous cities like Avila, Ciudad Rodrigo and La Alberce, a quaint 13th century rural village of wood and stone.

Prices
We recommend putting together a line of between 6 and 8 Guns or trying to join a team to make up a total line of no more than 9 Guns.

The price for each bird is $40.00 for the first 500 birds, and after that it drops to $35.00 per bird. The charge per person, per night, to include all accommodation costs, meals etc., is $350.00.
The above figures include: all shooting costs, services of a cargedor and secretario for each shooter, services of beaters and dog handlers, a bilingual shoot host, licences for firearms and hunting licences, assistance clearing shotguns into and out of Madrid Airport, firearms cleaning services each day, shooting lunches in the field or in the shooting hut, refreshments in the field between drives, all ground transfers and on-shoot transport, deluxe accommodation at Las Haijaderas, Salamanca, breakfast and dinners daily, open bar cocktail party nightly and a daily maid service (with laundry services available). The figures do not, however, include any expenses incurred in Madrid (although accommodation etc. can be arranged separately), international air travel, flights from Madrid to Salamanca (as an alternative to mini-bus transfers which are inlcuded in the price), personal expenses, third party liability cover, travel insurance or any sporting and domestic gratuities.
A typical itinerary would be as follows:

Day 1- Arrive - Madrid International Airport Transfer to Las Haijaderas Hunting Lodge

Day 2 - Shoot - 500 partridges - 8 Guns Lunch in the field. Dinner and Overnight at Las Haijaderas.

Day 3 - Shoot - 500 partridges - 8 Guns Lunch in the field. Dinner and Overnight at Las Haijaderas

Day 4 - Breakfast at Las Haijaderas Transfer to Madrid International Airport for return journey.
In Addition... It would be easy to stay in Madrid, the most cosmopolitan of cities at either end of your stay. It would even be possible to arrange to shoot pigeon at the exclusive Somontes Club in Madrid!
To make Reservations Call:
1-800-254-2406

or E-mail:
ChrisBatha@aol.com
Page 3