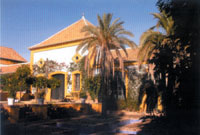 Luck is often described as a lifetime of training meeting a window of opportunity." Well, this summer, I had just such a stroke of "Luck".
Attending the CLA Game Fair this July in the UK, I met with Dylan Williams of the Royal Berkshire Shooting Grounds and The Really Wild Ladies Clothing Company. During our conversation, the opportunities to shoot partridge in Spain arose. Dylan went on to tell me about what I can only describe as "the ultimate partridge shooting destination"!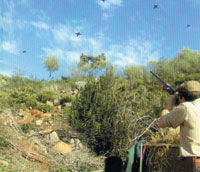 Hacienda Los Melonares is located in the rolling Andalusian hills of southern Spain. Many guests take advantage of its close proximity to Seville (35km), the Capital of Andalusia, to enjoy the wide range of tourist activities on offer there. They can visit the many monuments and historical sites, take in a show, or even play a round of golf.
The abundant Mediterranean flora and fauna, contrasting meadows and valleys, highlight the warm and sunny Andalusia climate of February and March. The exquisite service at Los Melonares, where your every need is catered to, ensures a unique experience for both shooter and non-shooter alike.
If you were kind enough to invite me to shoot anything, anywhere in the world, I would without hesitation choose driven Red Leg partridge in Spain. It is the ultimate wing shooting experience…. really, truly special.

Regular readers will be familiar with the various programs I am filming for"The Wing Shooting the World" television series. Well, this is where "recognizing an opportunity" comes into the story. Given the quality of the accommodations, superb location and spectacular action offered from these "pocket rockets", I seized the opportunity to put together a team of guns to accompany me on my filming visit to Spain in March, 2006.

The owner of Los Melonares and I are both advertising this trip and as there are only 8 places available, I would urge you to book early if you would like to join me on this the most excellent of wing shooting adventures, February 28th to March 5th, 2006.
ITINERARY
February 28th:
Depart from USA
March 1st: Arrive in Madrid, transfer from the airport to the Bullet Train to Seville, then transfer by car to Los Melonares.


March 2nd and 3rd:

Two-day shoot for 8 Guns.
Bag: 500 Red Leg Partridges per group of guns, per day (you will shoot at between 2,500 to 3,000 partridges each day). Extra Birds: $45.00 per bird.


March 3rd:

After the shoot, leave for Seville, enjoying dinner at one of the finest restaurants and spending the night in a first class hotel.


March 4th:

Tour and lunch in Seville, then take the Bullet Train to Madrid (Air transfer optional) and spend the night in Madrid.


March 5th:

Transfer to the airport for your plane home to the USA.
The cost includes: All accommodations and meals at Los Melonares, hotels and all meals in Seville and Madrid, round trip ticket on the Bullet Train, transportation to and from the Railway Station and airport, transportation in Seville and Madrid and tour guide in Seville.
All licenses, gun permits and cartridges are included, together with personal escorted service through Madrid airport customs.
Total package: $10,375.00 per shooter. Non-shooters: $2,250.00
Not included: flights to and from Madrid, telephone calls and gratuities. (Tips for secretaries, loaders and bird boys combined, average $210.00 per day.)
Of course, all members of the group will receive a copy of the show. This truly is a "once in a lifetime experience", and will fill quickly, so please confirm your place with a 50% deposit by the 30th of December, 2005