Every year I attempt to find a new and exciting venue that offers that elusive mix of both a quality experience and challenging shooting, combined with the opportunity to visit and sample different parts of the magnificent scenery and traditions of the British Isles.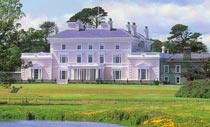 I am very excited about this year's venue! Ballywalter Park in Ireland has the perfect environment for the traditional Driven Pheasant Shoot. This excellent shoot was begun in the early years of the 20th Century when the 1st Lord Dunleath planted the woods and established the cover to create this shoot. It has attracted such famous sportsmen as the Duke of York ( later to become King George VI ) in 1924 and the Duke of Gloucester in 1935.
Like many of the great estates, the shoot fell into abeyance after the Second World War but was resurrected in the 1990's by a local syndicate. It has now been taken back into family ownership and, since 1997, The Ballywalter Park Shoot has been run as a traditional Driven Pheasant and Partridge Shoot with each aspect being managed personally, either by Lord Dunleath or by his son, William Mulholland.



The High Pheasant are presented flying high over the Guns, who are positioned at pegs amidst the beautiful parkland trees or in open pastureland, providing an exciting and challenging shooting experience.
This exclusive shoot offers places for only 8 Guns and the bag can be tailored to the team's requirements. I have secured two 300-Bird Days, plus the opportunity for a day's shoot on Driven Snipe in the Down Patrick marshes of County Down. This is a fully- catered event, including morning coffee, luncheon and afternoon tea, with drinks, as appropriate, served in the dedicated Shoot Rooms.
All arrangements will be made and advice given to comply with Great Britain and Irish rules to obtain the necessary permits for bringing personal shotguns into Northern Ireland.

Ammunition will be provided, but please advise of your gauge requirements well in advance.
The party of Guns shooting at Ballywalter Park over the Driven Days will stay in the Historically - listed Mansion House, which offers 12 luxurious en-suite twin or double bedrooms.
Non-shooting partners are most welcome and advice can be given on alternative attractions and places of interest to visit. Ballywalter Park has a dedicated hospitality team who provide full in-house dining facilities, with excellent fare, complemented by the House Cellar's selection of over 2,000 bottles of fine wines.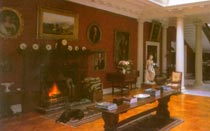 ITINERARY
November 6th: Arrive into London in the morning, transferring to the hotel. Those who would like to do so can join me in a tour of the London Gun Trade, including lunch at the oldest pub in England, The Guinea Grill. We will rendezvous at William Evans Gunmakers at 11AM that morning to begin the tour.
November 7th: Early morning, I will collect you from your London hotel and drive you to the Churchill Shooting Grounds where, after breakfast, you will receive a morning of tuition on the High Towers, with targets simulating High Driven Pheasant. After lunch we will have a series of 100-Bird Flushes from the High Towers, just to get you in the swing for the real thing later in the week.
November 8th: Travel to Belfast, Northern Ireland, for transfer to Ballywalter Park.
November 9th: 300-Bird Driven Pheasant Shoot at Ballywalter Park
November 10th: Driven Snipe at Down Patrick Marshes.November 11th: 300-Bird Driven Pheasant Shoot at Ballywalter Park
November 12th: Depart for home.
This complete package includes all licenses, permits, cartridges, accommodations, sustenance, wines and liquor, shoot transport and transfers, shooting at Churchill Shooting Grounds and the Tour of the London Gun Trade.
Not Included: Flights, both to and from the USA or in the UK, transfers to and from London airports, London Hotel accommodations or meals not mentioned in the itinerary.
Cost: $6,950.00
Non-Shooting Partners: $200.00 per night at Ballywalter Park.
Gratuities' for Gamekeepers, House Staff etc. are at the suggested rates (per person):
Gamekeeper: $200 for the 3 days shooting. Housekeeping: $40 Single occupancy - $80 Double occupancy for the 4 days.