British Sporting
Arms Ltd.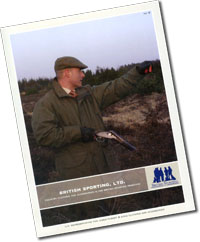 THE DEFINITIVE SUPPLIER OF
"COUNTRY CLOTHING AND
ACCESSORIES IN THE BRITISH SPORTING TRADITION"
Many of you will already have received your new catalog, if you haven't, call 800-318-8693 today! Charles and Margaret Schneible, owners, operators and everything else of the well-known British Sporting Arms Ltd, have truly outdone themselves on this one.
Take the money you save by not having to fly to England and buy all the Best of The British from them. They carry every famous name in the UK right here in the USA.
James Purdey, Crockett & Jones, Dubarry of Ireland, Barbour, Glengarnock of Scotland, to name only a few.
In addition they have an amazing array of accessories.., everything from fine leather gun slips and game bags to tweed hats and horn-handled walking sticks.
The only thing you won't find in detail in this comprehensive catalog is the collection of Fine Guns they have in stock. For that list, you will either have to visit them in person at 3684 Route 44, Millbrook, NY 12545 or visit their website at www.bsaltd.com.
It is also worth noting here that they contribute a portion of their profits to The Hole In The Wall Gang, a non-profit summer camp and center, founded by Paul Newman to serve children and their families coping with cancer and other life threatening illnesses.
Visit www.holeinthewallgang.org
Enjoy Your own Happy Hunting Ground Now

We all know that "life is short", but
when we heard about this wonderful property, we asked the owner if we could tell our readers about it. This is one of
those special places that you usually only hear about after it's gone.
In fact, I thought the owner was crazy for selling it, but as he said, " I've enjoyed it for many, many years and I've just got so many irons in the fire now, I don't have the time or the energy I once had to enjoy it. It's time to let my "little piece of Hunting Heaven" go to some one else who can appreciate it as much as I have."
So, here are the facts.., you'll see what I mean!
200 acres of wooded, rolling mountain hills located in Franklin County, just 20 minutes from downtown Roanoke, VA, 15 minutes from The Blue Ridge Parkway and 20 minutes from Smith Mountain Lake. In the larger picture, the land is 2 hours from the Greensboro Airport, 2 1/2 hours from Richmond, VA, 3 hours from the Charlotte Airport, and just 3 1/2 hours from Washington, DC.
The 1000 square-foot Cabin has two bedrooms with plenty of closet space, two baths, full kitchen, and a Great Room. The cabin is completely furnished including beds, plus dishes, pots and pans. The wide windows and wrap-around deck have a

view over the surrounding hills all the way to Smith Mountain Lake, 23 miles away!
A Massey Ferguson Tractor with an array of implements is included. And best of all, there is a caretaker/neighbor available to maintain the property when you are not there.
There are deer, turkey, woodcock and grouse in abundance, as well as the privacy and seclusion that comes with this pristine site. The Virginia Department of Forestry is in the process of certifying this property as a Virginia State Forestry Stewardship Farm.
And what is all this for sale for? Just $750,000.00! What more can I say? If you want to see it, visit and experience this exceptional place before you buy it, contact
CPSranger@aol.com
or Call: 540-774-2637, Cell: 540-529-3776 or Fax: 540-989-2132.