The World's Greatest Outdoor Sporting Event takes place in England annually at the end of July. The CLA Game Fair attracts hundreds of thousands of sporting enthusiasts over its three days of displays and events.
Its sheer size and energy is overwhelming and the immense variety of shows, demonstrations and exhibitors creates an infectious buzz that is not to be missed.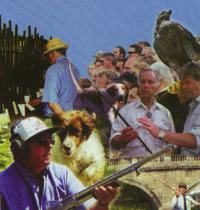 There is something for everyone to see and do! to see and do! For the shotgun enthusiast, Gunmakers Row is regarded as the greatest gathering of English and Continental Gunmakers in Europe. This fantastic line-up makes for an incredible selection of Best Guns... regardless of your budget or preference.
Non-shooting activities are in abundance! The show is laid out around a main arena, with the exhibitors' tents creating streets that make up a colorful Tented City spread over a hundred acres or more. Each street has its own theme and flavor, covering every conceivable and diverse country pursuit, from dogs to donkeys and falcons to ferrets!
For 2005, I have put together a visit to the UK organized around, and culminating in, the Game Fair.
This CLA Trip includes a variety of tours, shows, exhibitions and sights. I will be your guide throughout the week, ensuring everyone enjoys all that this fantastic trip has to offer.
We are delighted to have teamed up with Alfonso Fabrés to offer clients some of the finest red leg partridge shooting available in Spain, or indeed anywhere in the world.
For a line of up to nine Guns, Alfonso can provide memorable days of driven partridges with bags of 500 to 700 birds per day.
The Location
Alfonso's operation is situated in Northern Spain's vast province of Castilla Y Leon.
The Shooting
The shooting with Alfonso is done on a "double gun" basis with each shooter using a pair of shotguns. Each Gun has the services of a cargedor who loads and a secretario who records the number of birds hit by the Gun and where they fall, which could be five hundred metres into a vertical valley.
As Alfonso controls over 30,000 acres of shooting rights for driving partridge (and a variety of big game which are often seen on the drives), no two drives are alike. Due to the fact that each Gun draws a peg number in the morning tomelot, the rotation system on a pre-established formula, this ensures that he or she shoots next to different guests and in new places on every drive.
Prices
We recommend putting together a line of between 6 and 8 Guns or trying to join a team to make up a total line of no more than 9 Guns.
The price for each bird is $40.00 for the first 500 birds, and after that it drops to $35.00 per bird. The charge per person, per night, to include all accommodation costs, meals etc., is $425.00.
Available dates for 2004-2005:
November 15-18,
December 6-31
Dates for 2005:
January 1-12 and 17-28
February 1-5, 8 -11, 14-18, 21-28
March 1-4, 15-17, 20-23, 26-31