We had such a fantastic time in Argentina with Tomas Frontera this last Spring, we're going back for more... much more!
As many of you know who saw the show, the Intrepid Crew from ESPN2, Bill Miller and Terry Boederer joined us on our second trip and did a terrific job of filming our three days of dove shooting. We had some funky weather, but it only served to encourage the dubious singing of those of us riding in the Champion Mud Bogging "Trooper" Carrier!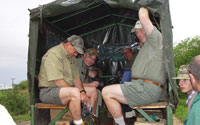 From the time we arrived in Cordoba, were greeted by Tomás, swept through customs and comfortably seated in the fully-stocked van, the trip took off at a rapid pace.
After dropping our bags at The First Class Executive Hotel, we headed for the dove fields and the delicious "al fresco" lunch, whipped up by the ever-versatile Juan. There's nothing like that Famous Argentina Beef cooked over a wood stove!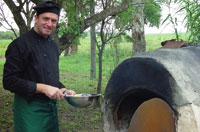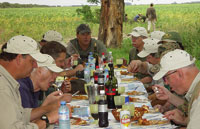 After lunch, we headed to the "hides" built by the bird boys who had our guns, cartridges and refreshments to hand. We were ready to "let the games begin!"
There's nothing like that first adrenalin rush as the dove begin to pour overhead .... the sheer numbers are unbelievable! Every one is caught up in a frenzy of shooting until it begins to sink in that the flights are not going to suddenly end and you can slow down and pick your shots.
At this point, I start going around visiting each person, videotaping them in action for analysis in our first classroom session before dinner. That evening we saw the familiar mistakes in the fundamentals that are the causes of most misses. After watching and discussing the video, I gave a class reviewing the fundamental of footwork, gunmount and technique.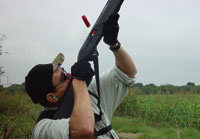 In the field, over the next two days, I spent time with each shooter, going over the basics and seeing them evolve their techniques from the first day's shoot. This coaching format , repeated over the four days, moved from the fundamentals to teaching the best technique to use for the best shot. Remember, there's no limit to what you can learn or the number of dove you can shoot!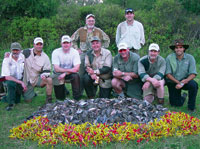 This Spring, we are adding another, more challenging dimension to our "Argentina Experience". We are offering 3 Full Days of Doves and 2 Full Days of Pigeon for $3,875.00! We stay in Four Star Lodges near to Cordoba and close to the Dove and Pigeon fields.
The Pigeons in Argentina are big, fast and can jink and dive like nothing you've ever seen before! The limits there are 150 per shooter and you will do very well to get that! These birds are smart and wary have to be decoyed in using all the considerable "Tricks of the Trade".
---
The all-inclusive price of $3,875.00 covers:

• Five days of Personal Instruction from Chris Batha throughout the trip
• Assistance with all gun paperwork
• All ground transportation from Cordoba
• Superb accommodations and fantastic food
• Hunting guide service
• Three days high volume dove hunting where 1000 shots per day is common
• Two days of pigeon shooting
• 2000 complimentary dove shells (extra shells @ $9.50 a box)

Extras not included:
Argentinian hunting license - average $28.00 a day, gun permit - $68.00
• Round trip flight: Miami to Cordoba average price $650.00
• Tips for bird boys, guide and house keepers average $20.00 each per day
The dates for Spring 2005 are:

March 29 - April 5
Leave Miami - March 29
Arrive Cordoba - March 30
Dove - March 30, 31 and April 1 Pigeon - April 2, 3
Depart Cordoba April 4
Arrive Miami - April 5
April 5 - April 12
Leave Miami - April 5
Arrive Cordoba - April 6
Dove-April 6, 7 and 8
Pigeon - April 9 and 10
Depart Cordoba - April 11
Arrive Miami - April 12
Page 3