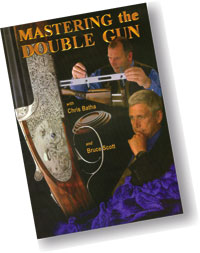 "MASTERING THE DOUBLE GUN"
A Unique Approach to the Instructional Video with Chris Batha & Bruce Scott
Learn to follow your instincts with Chris Batha, Chief Instructor and Gunfitter and Bruce Scott of the Shotgun Journal. Their combination of classic wingshooting techniques and proven clay - busting tips is packed with technical and practical information.



Churchill and Stanbury styles plus the three major techniques are demonstrated with the "EYE CAM" on the layouts, high towers and grouse butts of the Churchill Shooting Grounds, London, England.
For the Wing Shooter who shoots clays, for the Clay Shooter who hunts.
• The Instinctive Shot
• Technique Analysis
• Target Tactics for Wing and Clay
• Classic Styles
• The New Eye Cam Technology
• The Fundamentals
• Gun Fit
• Choosing Your Double Gun
• Buying a Pre-owned Gun
• Correct Gun Handling
• The Side by Side
• Loading
To order your copy please send a check for $64.95 (specifying VHS or DVD) to Chris Batha Shooting Schools, 43 Pinckney Colony Road, Okatie, SC 29909-4100. Shipping is included.