The excellent shooting, combined with the superb accommodations and exceptional food, makes this the perfect lodge from which to sample the very best of mixed bags.
January 2005 • November 2005
I have reserved three weeks shooting at this Scottish Estate in January 2005 and November 2005. They will be for teams of 6 to 8 guns and can be complete teams or single guns. Non-shooting partnets are welcome and excursions to Edinburgh and Glasgow can be arranged.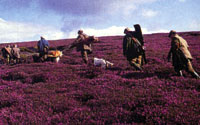 The reserved dates are:
January 3 to 8, 2005,
November 8 to 13,
and November 15 to 20, 2005
The trips will be of 5 days duration with 4 days shooting:

Day 1: Arrive

Day 2: Rough Shooting followed by Evening Duck Flight.

Day 3: Driven Day-150 birds.

Day 4: Morning Goose Flight followed by Rough Shooting.

Day 5: Driven Day-150 birds.

Total cost for accommodations and shooting is $4,350.00 per shooter.
The cost for non-shooting partners is $950.00 per person.

This price does not include flights, transport, telephones or liquor.
UK insurance, licenses and transport can be arranged at a nominal charge.
The three weeks will be booked on a First-Come-First -Served basis and a 50 percent non-refundable deposit is required to secure your place or places.
Page 5