We have been seeing some very outstanding and exceptional Sporting and Wildlife Art at the various Shows lately. Since not every one gets to every Show, we are featuring some of the artists and their artwork in this new section.
The Art Gallery will be added to our website, wwwchrisbatha.com with links to the artists' website. If you are interested in any of the artwork in this Fall Edition, please contact the artist directly.
---
ROCK WILSON CREATES
"THE ART OF THE FEATHER
Before we met Rock Wilson, we secretly thought he was a wrestler! When we met him and saw the beautiful work he does, we were even more surprised. He calls it "The Art of The Feather" and it all started with his passion for tieing flies. Some of his customers were so enamoured of the delicate flies he tied, they asked him to frame them.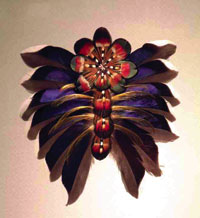 Then he began making designs with the feathers taken from birds that Wingshooters brought to him. "My wife won't have another stuffed bird in the house, but I know she'll love this piece!" is a common refrain.
Every piece of Feather Art is as unique as the bird itself. Rock primarily does custom works, often using the feathers from a particular hunt that the customer sends him. The resulting art is both personal and distinctive.
To contact Mr.Wilson call
231-947-2481, e-mail him at rock@chartermi.net. or see his art work at www.mymichigan.com under Gray Ghosts Designs.